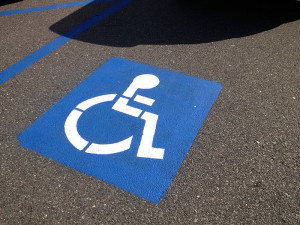 As you may know, the Americans with Disabilties Act (ADA) was signed into law on July 26, 1990. The ADA has been credited with removing barriers for millions of disabled people, allowing them access to jobs and public buildings. When enacted into law however, Congress did not assign regulators to enforce the law, therefore leaving an explosion of private ADA litigation. Many have called the recent litigation 'drive-by lawsuits', using handheld GPS equipment to determine, for example, accessible slopes.
The St. Louis area is not immune to the widespread litigation affecting many private property and business owners. In fact, one recent lawsuit against a national convenient store chain was settled for $1.5 million in compensatory damages in an effort to make it's stores accessible. Local business owners may be unaware that their stores are non-compliant due to new recent amendments published in the federal register on September 15, 2010.
The new guidelines layout the scoping and technical requirements for new construction and alterations and are available online at www.ada.gov. Further, standards for state and local government differ from those of the public and commercial facilities. The new guidelines will take affect March 15, 2012 and may have a direct impact in compliance of existing facilities as well as design of new developments.
While many business owners believe their buildings were grandfathered in prior to the 1990 regulations, this may not be the case and you could possibly be subject to the 2010 guidelines. While some of the new guidelines pertain to interior building space, many of the regulations will affect your site. As your professional engineer, Clayton Engineering can guide you through the maze of technical documentation as well as determine if your existing site will be in compliance with the new amendment.
Clayton Engineering has developed a comprehensive team of professionals to provide you with a solution to these issues and help you avoid a potential lawsuit. We have the capability to work with local architects for interior building space as well as site solutions.
Summary:
Many business owners look at ADA regulations as just a building code, while in reality it is actually a civil rights law. There are substantial differences between building codes and the Department of Justice's ADA requirements. A design plan receiving city approval may not necessarily be in compliance with ADA regulations. This lack of design strategy could ultimately lead to a federal lawsuit.
As your design professional, we will help you avoid these possible lawsuits and be happy to answer any questions you may have about the process.