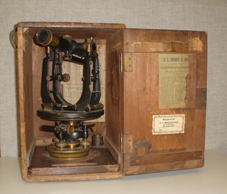 The Clayton Engineering Co., located in St. Louis, Missouri, was officially formed in 1926, but records, field books and a few original equipment items purchased from previous companies date back to the early 1800s.
While purging items last winter, Austin DeSain was going through some old boxes and found a wooden case labeled "C.L. Berger & Sons, Boston, Massachusetts," aka, "the Find." The transit-theodolite found its way onto our shelves nearly a century ago from a surveyor who was hired on the condition that he used his own equipment. The transit was last serviced on November 14, 1931, by the Sprengnether Instrument Co. in St. Louis. Shortly thereafter, it was replaced with the K&E style instrument and eventually the Wild Heerbrugg T1, T2, T3, etc.
Austin began researching "the Find" by contacting land-surveying historians and museums trying to collect information. Several private collectors and museums were helpful in trying to identify the specific model, although none were absolutely certain. Austin received copies of the original instrument brochure and catalogs from several of the collectors. By using the brochures and catalog drawings, he was able to pin-point the model, a No. 11c Complete Transit-Theodolite. The model, equipped with four leveling screws, was listed on page 213 of the 1918 "Standard Instruments of Precision" catalog for a steal at only $300.
Realizing that most of the people Austin contacted wanted to actually have the instrument for their own collections, he explained to our company board the instrument's significance. Due to it's historical interest we decided to display the instrument in our lobby. A great "Find." However, the most interesting response Austin received was from the curator of the Physical Sciences Collection at the Smithsonian National Museum of American History. The Smithsonian had a copy of the shop records for C.L. Berger & Sons and immediately mailed a copy of the original sales receipt for the exact model – matching serial number and specifications – before the end of the day. Among the scribbling on the original receipt, it's clearly stated "Inst. No. 14244, Transit No. 11 – Theodolite, to be shipped to Spregnether Inst. Co., St. Louis, Mo." – Jan. 30, 1923." As it turns out our instrument was a perfect match for their collection of surveying and geodesy apparatus.
After a few months of correspondence, the transit was packaged and sent to the Smithsonian in Washington, D.C. to care for and display. It is a true honor for both The Clayton Engineering Co. and Austin to have the opportunity to present this small gift to the nation.