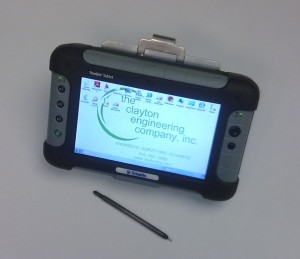 The Clayton Engineering Company located in St. Louis, MO began this year with a new equipment purchase for our field crews. This tablet is the very latest product to be released by Trimble and is without a doubt, the most advanced field surveying technology available on the market. The Trimble Rugged Tablet PC is a Survey data collector, a powerful tablet computer, GPS receiver and a lot more. Clayton Engineering, with the guidance and support from Seiler Instrument Company here in St. Louis was able to add this piece of field equipment to our arsenal of already "tough" technology.
The addition of the Trimble Tablet this year was not an easy decision, as with any new equipment purchase. Over the last ten years, this industry has been introduced to an ever increasing number of available field and office hardware, software and all around technological advances. We have always had a good history with Trimble's products, Geodimeter and Spectra before and even before that, K&E, Wild and Berger. With nearly a century of productive history here in the St. Louis area, this company has had plenty of opportunities to test civil engineering and land surveying hardware and software for their versatility, durability and functionality. A history like this reflects a pattern of manufacturers and distributors, types of equipment and software that have consistently produced excellent products catered exactly to the needs of a company like Clayton Engineering. In this instance, although several other items were researched and even test driven extensively, the Trimble Rugged Tablet PC is the only new piece of field equipment that more than exceeds all of the requirements we were looking for. One major deciding factor was the tablet's capability to work with all of our old and even some out-dated instruments while still promising streamlined performance with current and future field equipment.
The tablet is an extremely powerful computer by office standards, let alone in the field. It runs a Windows 7 operating system, capable of handling multiple programs at the same time like AutoCAD, Trimble Access and Internet Explorer with hardly any lag or slow-down time. The tablet's hard drive is solid state (like an SD card), providing for a near zero read-time from application to application. The expansion bays provide for additional feature options like a cell-modem for non-stop net connections, like the one we frequently use in conjunction with the MODOT RTK-Network. With the SD slot, dual USB slots, IO plug, on-board GPS, headphone and microphone jacks and all of the other features mentioned, this field computer is much more than survey data collector.
It is the toughest and most rugged tablet PC currently on the market. It's water resistant, durable enough for daily use on a construction site, temperature resistant to extremes in both directions and the 7"LCD screen is extremely user friendly for regular and irregular surveying, under any conditions. Prior to this, Clayton Engineering used the Trimble ACUs with Survey Controller software. Thankfully, with Trimble Access there is virtually no learning curve for the crews. They were able to use the tablet for all types of surveying almost immediately. Trimble Access is the evolved version of Survey Controller and much more powerful while easier to use in the field. The tablet works great in conjunction with all of our in-house proprietary software as well. All of the new features, and the quickness of the processing only meant that there are easier and faster ways to do complete the necessary tasks. Also, like the previous Trimble collectors, she talks to you!
Seiler Instruments has again provided The Clayton Engineering Company with the opportunity to be the frontrunner in the field crew technology area of land surveying and civil engineering. The company's long standing history has proven that with the industry's newest most cutting edge technology in our hands, we can maintain a very strong competitive advantage and provide the most accurate, precise and efficient final product for every one of our clients.